Payments can be made with Venmo to @michael-martin-1136 (0323 last 4 digits of cell number) . Don't have Venmo please contact us at denverguycamp@gmail.com other payment options.
2023
Trip #1, June 09th-11th, Cold Springs 12174 CO-119, Black Hawk, CO 80422 
Trip #2, July 7th-9th, Lodgepole Campground, Near Jefferson, CO 
REGISTRATION RULES
To register for a trip just click the trip you would like to attend. An Invoice will be generated that you can print for your records and make payments on Venmo to @michael-martin-1136(0323 last 4 digits of cell number). Your reservations will not be held unless you register on this site. The $30 fee is whether you stay 1 or 2 nights. Refunds will be made only on cancellations made 4 weeks prior to your trip.
All reservations are first come, first serve. Space is limited!  Contact us to reserve your spot now! We update the availability of the trips on a regular basis.  NO CAMPERS OR RV'S WILL BE PARKED AT OUR RESERVED SITES DUE TO LIMITED SPACE, HOWEVER IF YOU WOULD LIKE TO JOIN US RESERVE YOUR SPOT ON RECREATION.GOV.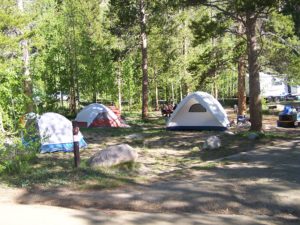 Weather:
We will not cancel or postpone trips due to weather. Each member of the group can make their own decision based on the forecast if they want to join us for that trip or not. The reality is that weather is just something you deal with in camping. Some members of the group have canopies set up to keep us dry in such circumstances. We suggest you pack some rain gear, just in case. Most of our summer storms last a relatively short time, but there are exceptions. Chilly nights and random weather are just part of the camping experience!!
Parking:
Most campgrounds are limiting the number of cars per campsite, usually 2 cars so it's first come, first serve. Most campgrounds have overflow (remote) parking. Others may charge an additional fee for parking. Those fees will be the responsibility of the car owner. NO CAMPERS OR RV'S WILL BE PARKED AT OUR RESERVED SITES DUE TO LIMITED SPACE.
Additional Fees:
The reservations made through Denver Guy Camp are used to reimburse for the actual camp site reservations that are prepaid. In some of the campgrounds we will be staying at, there is the possibility that members may incur other fees (i.e. park admission, recreational passes, etc.) charged by third parties (US Forest Service, Colorado Parks & Recreation, as well as companies hired to administer these parks.) Check the campground web sites for additional information. **Any additional fees incurred are not part of your reservation fees paid to Denver Guy Camp.**
See Who's Going:
Check to see who's going on our Tracker page!