Camping,… hiking,… biking,… grilled food,… fresh mountain air… & beer.
12 years of fun times, good memories, and ready to make some more!
About Us
We're a group of like-minded gay & gay-friendly people getting together to camp for a few extended weekends (a couple of nights each) during the summer (see the 2023 Schedule tab or the right hand side of any page for the dates.) Grilling, hiking, and bad jokes will also make the to-do list. It's also possible there might be a wine & cheese party, and some tent decorating happening.
We "tent camp" in the mountains in established campgrounds. If you know of any open spaces that are good for camping and easy to find, let us know. That is always an option.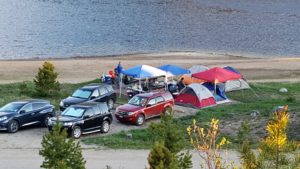 Some members have expressed interest in some trail biking, so think about bringing your mountain bikes. If there's a good fishing hole nearby or some sightseeing you
want to do, all the better!
NOTE: These are held in family campgrounds, mostly in State and/or National Parks. What goes on in your tent should stay in your tent,… quietly. We want to be considerate of other members in our group as well as other people at the campground.
Feel free to recruit. There's only so much we can do to get the word out. We encourage you to direct people who might be interested to this website, or have them send us an email (denverguycamp@gmail.com) and we'll do the rest. The fee is $30 per person per trip. Other costs (Your food, fuel, equipment, generally campgrounds allow 2 vehicles per site, additional vehicles my have to pay for offsite parking depending on the campground, Some parks charge each vehicle for entry i.e. Lodgepole at Jefferson Lake and Arapahoe Bay at Lake Granby). Every person is responsible to bring their own food and drink for the time at camp.
REGISTRATION RULES
To register for a trip just click the trip you would like to attend. An Invoice will be generated that you can print for your records. Make payments on Venmo to @michael-martin-1136 (0323 last 4 digits of cell number) or email us at denverguycamp@outlook.com for other payment options.
Your reservations will not be held unless you register on this site. The $30 fee is whether you stay 1 or 2 nights. We use the collected fees to purchase the campsites and to pay for the domain site. Refunds will be made only on cancellations made 4 weeks prior to your trip.
Please read the Rules tab on this website for all of the Denver Guy's Camp Rules and Regulations.